It's not about how much you learn but how you learn!
Excited about the school? Contact us and we will tell you how we fill happiness in your child:
[[[[]],[[]],"and"]]
keyboard_arrow_leftPrevious
Nextkeyboard_arrow_right
The Academic Path
Parents around the world are always concerned about one thing – what is the path for their child for a successful life? If we do this course, will they be able to become 'so and so'? Do we make our child learn this 'curriculum'? Questions abound and learning institutions do not try and take this confusion away. Instead many of them claim either 'pedagogy' or their 'curriculum' is the best. So what's the best academic path for your child? It is not about a particular curriculum or subjects but it is the process of learning that makes them successful. At The Gaudium, your child's Academic Path will look something like this: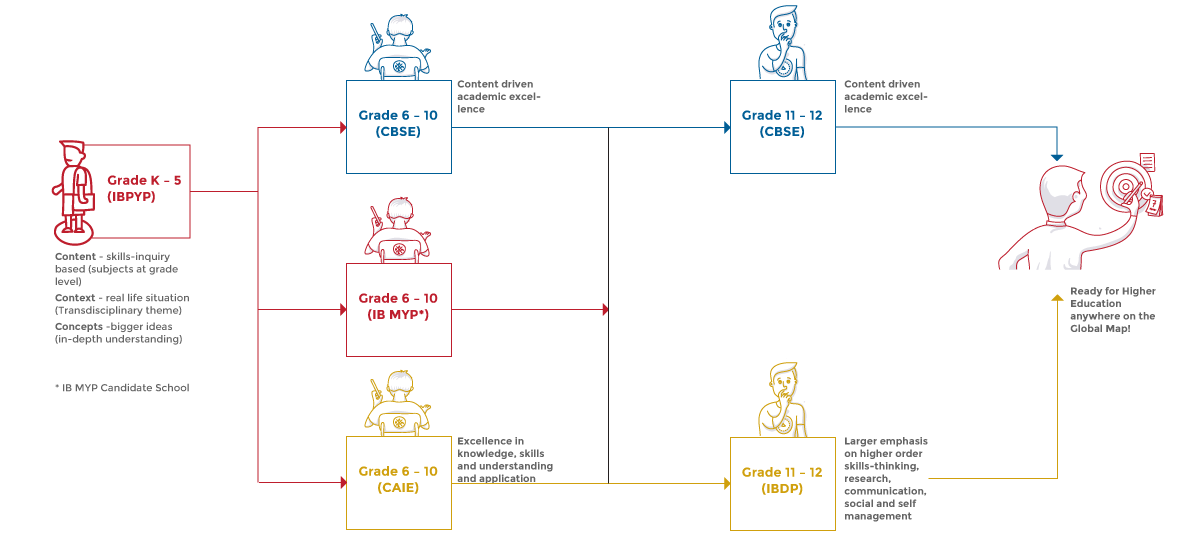 Which Academic Path is better is not a question of the curriculum or the subjects but depends more on the child itself. Our Counsellors will have a detailed discussion with you and your child and recommend the most suitable Academic Path. It is important to remember that one path is not better than the other in terms of academic excellence. It is only designed as a means to an end – happy learning and a child that is filled with happiness.
It also depends on the future plans you might have for your child or even your child perhaps is planning something. Thus the different paths are to enable their dreams and also their convenience  – afterall learning without Joy is no learning at all!
The Academic Groups
The Pre-primary education defines the early childhood years as those from three to five years. These years are distinctive in several ways. The rapid rate of development which occurs in the physical, social, emotional, intellectual and aesthetic domains is particularly significant. Although the progression usually occurs in recognisable and predictable directions, it is unique in each child, occurring at varying rates from child to child, and inconsistently for each child.
For many children, these years also mark the first transition from home to group experience outside of the family and to a new physical environment. The school strives to make this adjustment as successful as possible by encouraging the development of secure and trusting relationships with new adults and peers. The experiences that contribute to children's development and learning are defined by social and cultural contexts: the family and the home, the school environment and the children and adults within it, and the surrounding community.
The young child engages with the world in a direct and interactive manner and the school encourages an active learning approach through which children construct meaning from experience about the social and physical world that surrounds them. The Gaudium School recognises that areas of development and learning are interrelated in the young child, and its curricular framework allows for concept development that applies across subject-specific domains.
At The Gaudium Pre-primary education is offered at the Nanakramguda and Kollur Campuses.
The Gaudium School is an authorised IB World School, offering the Primary Years Program (PYP) of the International Baccalaureate (IB). This is an international curriculum framework designed for all children between the ages of 3 and 11 years. The program focuses on the total growth of the developing child, affecting hearts as well as minds and addressing social, physical, emotional and cultural needs in addition to academic growth. The PYP combines the best research and practice from a range of national systems with a wealth of knowledge and experience from international schools to create a relevant and engaging educational program.
The program offers a comprehensive, inquiry-based approach to teaching and learning. It provides an internationally designed model for concurrency in learning and incorporates guidelines on student learning styles, teaching methodologies and assessment strategies. The curriculum framework is an expression and extension of three interrelated questions:
What do we want to learn?
How best will we learn?
How will we know what we have learned?
What do we want students to learn?
Our program strives for a balance between the search for understanding, the acquisition of essential knowledge and skills, the development of positive attitudes and the opportunity for positive action. In achieving this balance, the program consists of five components, which are referred to as the essential elements of the curriculum and are listed below.
Concepts: Powerful ideas which have relevance within and across the disciplines and which students must explore and re-explore in order to develop understanding. Key concepts are expressed as questions – form (What is it like?), function (How does it work?), causation (Why is it like it is?), change (How is it changing?), connection (How is it connected to other things?), perspective (What are the points of view?), responsibility (What is our responsibility?) and reflection (How do we know?).
Knowledge: The body of significant and relevant subject matter we wish students to explore and know about. This knowledge is represented through six subject areas: languages, social studies, science and technology, mathematics, arts, and personal, social and physical education.
Skills: Those things the students need to be able to do to succeed in a changing, challenging world. The program identifies sets of disciplinary and cross-curricular skills, outlined below, that are acquired in the process of structured inquiry.
Thinking skills: the acquisition of knowledge, comprehension, application, analysis, synthesis, evaluation, dialectical thought, and metacognition
Research skills: formulating questions, observing, planning, collecting and recording data, organising and interpreting data, and presenting research findings. Communication skills: listening, speaking, reading, writing, and non-verbal communication
Self-management skills: gross and fine motor skills, spatial awareness, organisation, time management, safety, a healthy lifestyle, codes of behaviour and making informed choices
Social skills: accepting responsibility, respecting others, cooperating, resolving conflict, group decision making, and adopting a variety of group roles.
Attitudes: Characteristics that are expressions of fundamental values, beliefs and feelings about learning, the environment and people. Students are developing the following attitudes: appreciation, commitment, confidence, cooperation, creativity, curiosity, empathy, enthusiasm, independence, integrity, respect, and tolerance.
Actions: Demonstrations of positive action and service. Students are encouraged to reflect, choose wisely and to act responsibly with their peers, school staff and in the wider community. Through such service, students are able to grow socially and personally, developing skills such as cooperation, problem solving, conflict resolution and creative and critical thinking.
How best will our students learn?
We are committed to structured, purposeful inquiry, which provides multiple entry points meeting the diverse needs of our population and involves students actively in their own learning. The reason is simple. We believe that this is the way in which students learn in the most constructive manner. Students participate in engaging and motivational activities that enable them to develop a deep level of understanding. Student learning is characterised by the long-term retention of ideas, and by an awareness of its connection with other things, including life in the real world.
How will we know what the students have learned?
Assessment is integral to all teaching and learning. It is central to our goal of thoughtfully and effectively guiding students through the five essential elements of learning: the understanding of concepts, the acquisition of knowledge, the mastering of skills, the development of attitudes and the decision to take action. Both students and teachers are actively engaged in assessing students' progress as part of the development of their wider critical thinking and self-evaluation skills. There is a range and balance of school-based assessment strategies. These include student-teacher conferencing, writing samples, structured observation, and performance tasks evaluated by means of assessment rubrics and various forms of student self-assessment.
Assessment Strategies: A range of assessment strategies are used in classes including:
Anecdotal records of informal observations Formative assessments, such as Mind maps & brainstorms
Performance Tasks that demonstrate student achievement, such a:

Portfolio work samples
Photos and videos of work
Role-play with students acting out their learning
Student-composed tests, including multiple choice
End-of-unit summative activities

Student self and peer assessments Authentic measurement tools, such as Rubrics
Benchmarks/exemplars Checklists, such as Student acquisition of skills
Our Middle School Program offers CBSE, CAIE (IGCSE) and IB MYP* curriculum .
CBSE
The Gaudium School is affiliated to CBSE (Registration No: 3630194 – All India Secondary School Examination).  The approaches of academic activities are  to provide stress free, child centered and holistic education to all children without compromising on quality. The curriculum is designed to achieve  quality benchmarks in middle school education consistent with the National goals.We bring in innovative methods to achieve academic excellence in conformity with psychological, pedagogical and social principles.
What do we want to learn?
It focuses on the development of knowledge and skills in the core subject areas of Science, Mathematics and English complemented by Languages, Humanities and Arts.
The middle years are the most formative ones and we encourage students to become independent learners. We pay a great deal of attention to preparing students for higher classes and for the future itself. We inculcate skills such as reading and critical thinking that will hold students in good stead for the years to come.
How best will we learn?
We focus not on just completion of syllabus but conceptual understanding
Personality of the learner is developed
Rote learning , learning by heart avoided
Learning is through activities, learning not for facts and knowledge but for life
Attitudes and skills inculcated through activities
Learning through collaboration
Projects involving society included
Field trips, guest speakers, theme-based teaching used
Child is engaged in the process of learning
Creative teaching techniques used
Individual attention provided to child
Differentiated Instruction planned based on child's abilities
Counselling and Reinforcement strategies used
How will we know what we have learned?
School based assessments are aligned with revised All India Secondary School Examination.
The components of the assessment tasks will be assignments, projects, periodical tests, and term examinations. The progress of the child will be weighted on the set components , aggregating to percentage. The feedback and action plan strategies will be periodically reviewed and communicated to students and parents.
CAIE
The Cambridge international curriculum sets a global standard for education, and is recognised by universities and employers worldwide. The curriculum is flexible, challenging and inspiring, culturally sensitive yet international in approach. Cambridge students develop an informed curiosity and a lasting passion for learning. They also gain the essential skills they need for success at university and in their future careers.
What do we want to learn?
Knowledge, understanding and higher order thinking skills
Cambridge programmes combine an emphasis on mastering subjects in depth with the development skills for study and work in the future. It values deep subject knowledge as well as the conceptual understanding that helps students make links between different aspects of a subject. It also encourage students to develop higher order thinking skills – problem solving, critical thinking, independent research, collaboration and presenting arguments. These are transferable skills that will last a lifetime, preparing students for their future lives. They also make learning enjoyable and rewarding.
How best we learn?
Our research shows that good learning habits matter. We encourage Cambridge students to reflect on their learning so that they are able to build on experience and plan ahead. They will be confident, innovative and resourceful, secure in their knowledge yet open to new ideas and opinions. They will also be responsible – to themselves, and to others. These habits lay the foundations for productive study and employment, and are actively promoted and encouraged by Cambridge syllabuses and qualifications.
How will we know what we have learned?
Assessment has two important roles:
To prove what a student has learnt
To improve a student's understanding and skills
Good assessment lies at the heart of a good education. Our assessments are designed to be fair, valid, reliable and practicable, so that every Cambridge exam provides a true picture of a student's ability, wherever and whenever the exam was taken. This means our assessments have real, lasting value and can be a lifelong passport to further study or employment.
Accurately assessing learning
Our end-of-programme assessments give students focus, motivation and a challenge. We assess what is of greatest value to our students – deep subject knowledge, conceptual understanding and higher order thinking skills. Assessment is in English and is accessible to speakers of English as a second or foreign language. Our flexible, linear assessment structure maximises teaching and learning time, encouraging a strong grasp of the subject being studied. This helps to support new thinking, and encourages cross-curricula connections.
*Candidate School
The Gaudium offers both CBSE and IBDP curriculum choices in Grades 11 & 12.
The IB Diploma Programme (DP) is an academically challenging and balanced programme of education with final examinations that prepares students, aged 16 to 19, for success at university and life beyond. It has been designed to address the intellectual, social, emotional and physical well-being of students. The programme has gained recognition and respect from the world's leading universities. The Diploma Programme prepares students for effective participation in a rapidly evolving and increasingly global society as they:
Develop physically, intellectually, emotionally and ethically
Acquire breadth and depth of knowledge and understanding, studying courses from six subject groups
Develop the skills and a positive attitude towards learning that will prepare them for higher education
Study  at least two languages and increase understanding of cultures, including their own – make connections across traditional academic disciplines and explore the nature of knowledge through the programme's unique theory of knowledge course
Undertake in-depth research into an area of interest through the lens of one or more academic disciplines in the extended essay
Enhance their personal and interpersonal development through creativity, action and service
The curriculum
IB Diploma Programme students must choose one subject from each of the five groups (1 to 5), ensuring breadth of knowledge and understanding in their best language, additional language(s), the social sciences, the experimental sciences and mathematics. Students must also choose either an arts subject from group 6, or a second subject from groups 1 to 5.
DP subjects can be taken at higher level or standard level.
At least three and not more than four subjects are taken at higher level (240 teaching hours), while the other subjects are taken at standard level (150 teaching hours). Students can study and take examinations, in English, French or Spanish.
Two DP subjects are classified as interdisciplinary subjects and so satisfy the requirements of more than one subject group:
Literature and performance – group 1 and group 6
Environmental systems – group 3 and group 4
In addition to disciplinary and interdisciplinary study, the Diploma Programme features three core elements that broaden students' educational experience and challenge them to apply their knowledge and skills.
The Diploma Programme core
The extended essay asks students to engage in independent research through an in-depth study of a question relating to one of the DP subjects they are studying. The world studies extended essay option allows students to focus on a topic of global significance which they examine through the lens of at least two DP subjects.
Theory of knowledge develops a coherent approach to learning that unifies the academic disciplines. In this course on critical thinking, students inquire into the nature of knowing and deepen their understanding of knowledge as a human construction.
Creativity, action, service (CAS) involves students in a range of activities alongside their academic studies throughout the Diploma Programme. Creativity encourages students to engage in the arts and creative thinking. Action seeks to develop a healthy lifestyle through physical activity. Service with the community offers a vehicle for new learning with academic value. The three strands of CAS enhance students' personal and interpersonal development through experiential learning and enable journeys of self-discovery.
Assessment
Students take written examinations at the end of the programme, which are marked by external IB examiners. Students also complete assessment tasks in the school, which are either initially marked by teachers and then moderated by external moderators or sent directly to external examiners. The marks awarded for each course range from 1 (lowest) to 7 (highest). Students can also be awarded up to three additional points for their combined results on theory of knowledge and the extended essay.
The diploma is awarded to students who gain at least 24 points, subject to certain minimum levels of performance across the whole programme and to satisfactory participation in the creativity, action, service requirement. The highest total that a Diploma Programme student can be awarded is 45 points. Assessment is criterion-related, which means student performance is measured against pre-specified assessment criteria based on the aims and objectives of each subject curriculum, rather than the performance of other students taking the same examinations. The range of scores that students have attained remains statistically stable, and universities value the rigour and consistency of Diploma Programme assessment practice.
Learn how to learn by employing the inner tools
The IB educational philosophy is defined by the IB learner profile and the approaches to teaching and learning
ATL has always been part of IB teaching
What is of paramount importance in the pre-university stage is not what is learned but learning how to learn … What matters is not the absorption and regurgitation either of fact or pre-digested interpretations of facts, but the development of powers of the mind or ways of thinking which can be applied to new situations and new presentations of facts as they arise. – Alec Peterson
A World-Recognized Qualification
IB diploma graduates  have access to the world's leading universities  including Indian universities, and are better prepared for success at university
Recognition of IB Diploma Program in Indian Universities
Since 1983 International Baccalaureate Diploma has been recognized by the Association of Indian universities as an entry qualification to all universities in India. The IBO produces and issues for universities a document detailing percentage equivalency along with the transcript of results.
CBSE Program
The curriculum refers to the lessons and academic content to be taught to a learner in the school. In empirical terms, it may be regarded as the sum total of a planned set of educational experiences provided to a learner by a school. It encompasses general objectives of learning, courses of study, subject-wise instructional objectives and content, pedagogical practices and assessment guidelines. The curriculum provided by CBSE is based on National Curriculum Framework-2005 and seeks to provide opportunities for students to achieve excellence in learning.
For the purpose of fostering competences in learners, the curriculum encompasses nine major learning areas, which are: Languages, Humanities, Mathematics, Science and Technology, General Studies, and Health and Physical Education. These areas are broadly divided into Scholastic and Co-scholastic areas as detailed below: Languages Scholastic Areas Humanities Mathematics Science and Technology Commerce Visual, Performing and Fine Arts General Studies Health & Physical Education Co-scholastic Areas.