The students go through three phases –
Primary School (Nursery to Grade 5) – IBPYP
Middle School (Grade 6-10) – IBMYP*/CI/CBSE
High school (Grade 11-12) – IBDP/CBSE
Our philosophy of joyous learning deep-rooted in our 5 dev pillars is aligned to our belief in experiential and experimental learning approach which helps a child transfer his/her understanding and skills to new real-life situations and take meaningful actions as a result of it. The Gaudium approach to learning and teaching from K-12, irrespective of the curricula offered, focuses on concepts, context, content, and skills through inquiry-based constructivist approach, as well as a problem-based and project-based approach which inculcates in-depth conceptual understanding.
The students graduating from The Gaudium School will be well prepared for 21st Century education in order to be placed in reputed universities in India and abroad by accomplishing the well-defined individual goal set on their strengths, passion, and purpose of life.
The Academic Path
Parents around the world are always concerned about one thing – what is the path for their child for a successful life? If we do this course, will they be able to become 'so and so'? Do we make our child learn this 'curriculum'? Questions abound and learning institutions do not try and take this confusion away. Instead many of them claim either 'pedagogy' or their 'curriculum' is the best. So what's the best academic path for your child? It is not about a particular curriculum or subjects but it is the process of learning that makes them successful. At The Gaudium, your child's Academic Path will look something like this: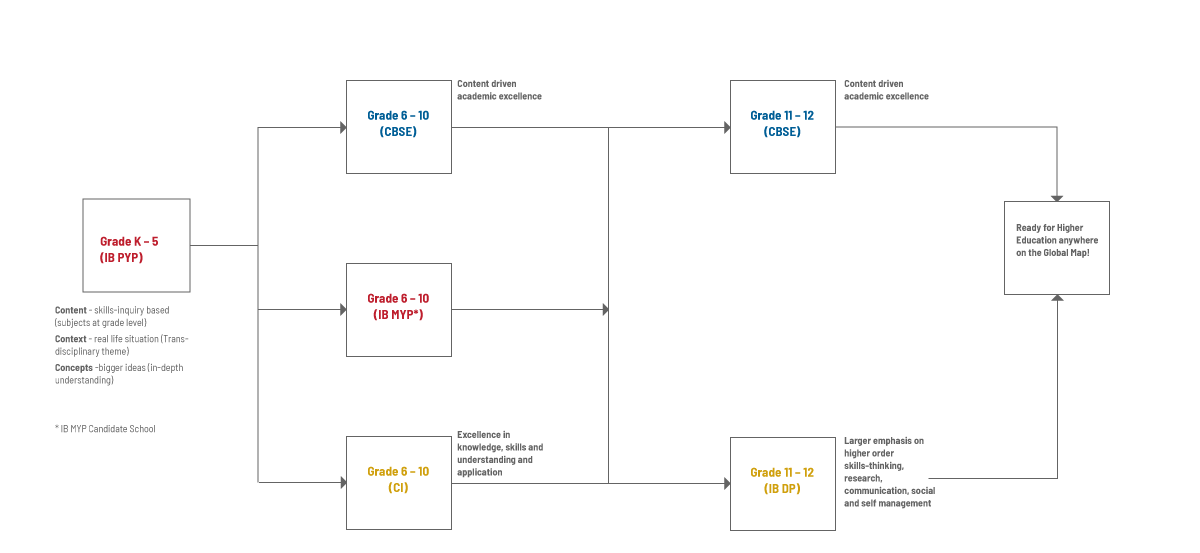 Which Academic Path is better is not a question of the curriculum or the subjects but depends more on the child itself. Our Counsellors will have a detailed discussion with you and your child and recommend the most suitable Academic Path. It is important to remember that one path is not better than the other in terms of academic excellence. It is only designed as a means to an end – happy learning and a child that is filled with happiness.
It also depends on the future plans you might have for your child or even your child perhaps is planning something. Thus the different paths are to enable their dreams and also their convenience  – afterall learning without Joy is no learning at all!