Excited about the school? Contact us and we will tell you how we fill happiness in your child:
[[[[]],[[]],"and"]]
keyboard_arrow_leftPrevious
Nextkeyboard_arrow_right
What are Learning Strategies?
As students shift from the skills emphasis of elementary grades to the content emphasis of secondary grades, they face greater demands to read information from textbooks, take notes from lectures, work independently, and express understanding in written compositions and on paper and pencil tests. For students who haven't acquired such important academic skills, the task of mastering content often comes with failure, particularly in inclusive general education classes.
Simply put, a learning strategy is an individual's approach to complete a task. More specifically, a learning strategy is an individual's way of organizing and using a particular set of skills in order to learn content or accomplish other tasks more effectively and efficiently in school as well as in nonacademic settings. Therefore, teachers who teach learning strategies teach students how to learn, rather than teaching them specific curriculum content or specific skills.
Research suggests that use of learning strategies can improve student performance in inclusive settings or on grade appropriate tasks. In reading, for example, results from a study of the use of the Word Identification Strategy indicated that the number of oral reading errors decreased while reading comprehension scores increased for all students on ability level and grade level materials.
What is the difference between Learning Strategies and Instructional Strategies?
As the name suggests the difference is in the audience. While learning strategies relate to the students, instructional strategies are for the teachers to impart education – again not to be confused with the fact that even the learning strategies are devised by the teachers. Simply put, instructional strategies are made by teachers to try and see how effectively the education is 'delivered'. The following is a list of instructional strategies followed at The Gaudium:
Lecture method
Power point
Videos
Brainstorming
Demonstration
Comprehension
Story telling
Activity based
Inquiry based
Debate
Role play
Dramatization
Quizzing
Treasure hunt
Research
Project
Collaborative
Group discussion
Presentations
Peer learning
Guest talk
Field trip
Nature walk
Interviews
Experiments
Exhibitions
Creative writing
Report writing
Analysis of the content
Diagrammatic representation
Sketching
Surveys
Model making
Films/documentary making
Concept mapping
Games
Hands on Workshops
Circle time
Worksheets & Assignments
Forums
Celebrations
Expert's interaction
Dissections
Learning strategies also are made by the teachers but for the goal as to how the education is 'received' by the students.
Learning Strategies At The Gaudium
The 'Happy Minds Model' – The 5 Developmental Pillars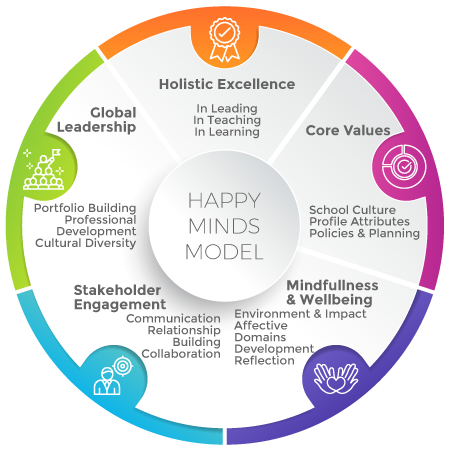 HOLISTIC EXCELLENCE: At The Gaudium School, the purpose of holistic education is to prepare students to acquire and excel in their cognitive, intrapersonal and interpersonal skills. The focus is on the development of a person's intellectual, emotional, social, physical, artistic, creative and spiritual potentials embedding diversity, equity and inclusiveness. To demonstrate excellence, one needs to be specific about what one is aiming for in a practical and tangible sense. In our school we define excellence by comprehensive descriptors against a set of values and outcomes that students strive to achieve in respective domains. The domains of development are:
1. Excellence in learning
2. Excellence in teaching
3. Excellence in leading
CORE VALUES: At the Gaudium School, our pursuit of building a world class education is guided by our five core values – Integrity, Perseverance, Empathy, Respect and Gratitude. We seek to hold ourselves and each member of our school community accountable for demonstrating them everyday.
The domains of development are:
1. Culture and ethos
2. Policies and planning
3. Profile building
MINDFULLNESS & WELLBEING: At The Gaudium School, we believe in empowering young people to take care of their minds,bodies and the people around them to build a foundation for lifelong learning. Wellness philosophy at The Gaudium is guided by a model integrated into the curriculum and into life outside the classroom. An educational experience that will foster the intellectual, moral,emotional and physical development of each student.
The domains of development are:
1. Environment and impact
2. Affective domains
3. Reflection
STAKEHOLDER ENGAGEMENT: At The Gaudium School, we define stakeholder engagement as an ongoing system through which leaders meaningfully connect with, learn from and communicate with individuals and groups. This includes parents, teachers, students and staff, and can be local community to embrace a model that places strong emphasis on collaborative decision making and communication. The interaction model builds on a strong understanding of our research and reflective analysis in a systematic approach to get contextual information, communicating research findings and improve the quality of knowledge.
The domains of development are:
1. Establishing relationships
2. Effective communication
3. Strengthening collaboration
GLOBAL LEADERSHIP: At The Gaudium School, we use leadership beyond boundaries framework that correlates greater social impact with increased personal development. At a fundamental level, the focus is on helping individuals build self-clarity and motivation. The second level is building interpersonal skills to work effectively with others. The next higher level is about preparing young people to bring about positive change in the school and community using the levers of innovation and leadership. The design includes inquiry based classroom sessions, experiential based activities and project based prototypes, and in all these stages mentoring is the key to progress.
The domains of development are:
1. Cultural diversity
2. Professional and learning development
3. Portfolio making
Using Theatre As A Major Educational Tool
As experienced educationists we are fully aware of the positive role and impact that dramatics has in enhancing child development. We thus lay great emphasis on theatre and leverage its vast benefits to nurture children at different levels – making us the best school in Hyderabad. These include:
Self Confidence
Taking risks in class and performing for an audience teach students to trust their ideas and abilities. The confidence gained in drama applies to school, career and life.
Imagination
Making creative coices, thinking of new ideas, and interpreting familiar material in new ways are essential to drama. Einstein said "Imagination is more important than knowledge".
Empathy
Acting roles from different situations, time periods, and cultures promotes compassion and tolerance for others' feelings and viewpoints.
Concentration
Playing, practicing, and performing develop a sustained focus of mind, body and voice which also helps in other school subjects and life.
Communication Skills
Drama enhances verbal and nonverbal expression of ideas. it improves voice projection, articulation of worCods, fluency with language, and persuasive speech. Listening and observation skills develop by playing drama games, being an audience, rehearsing and performing.
Cooperation / Collaboration
Theatre combines the creative ideas and abilities of its participants. This cooperative process includes discussing, negotiating, rehearsing and performing.
Fun
Drama brings play, humour and laughter to learning; this improves motivation and reduces stress.
Emotional Outlet
Pretend play and drama games allow students to express a range of emotions. Agression and tension are released in a safe, controlled environment reducing antisocial behaviours.
Problem Solving
Students learn how to communicate the who, what, where and why to the audience. Improvisation fosters quick-thinking solutions, which leads to greater adaptability in life.
Relaxation
Many drama activities reduce stress by releasing mental, physical and emotional tension.
Self-Discipline
The process of moving from ideas to actions to performances teaches the value of practice and perseverance. Drama games and creative movement improve self-control.
Trust
The social interction and risk taking in drama develop trust in self, others and the process.
Physical Fitness
Movement in drama improves flexibility, coordiantion, balance and control.
Memory
Rehearsing and performing words, movements and cues strengthen the memory skill like a muscle.
Social Awareness
Legends, myths, poems, stories and plays used in drama teach students about social issues and conflicts from cultures, past and present, all over the world.
Aesthetic Appreciation
Paricipating in and viewing theatre raise appreciation for the art form. It is important to raise a generation that understands, values and supports theatre's place in society.
Life Skills
At The Gaudium, the evaluation of students covers all aspects of student's development including various areas such as Life Skills (Thinking Skills, Social Skills and Emotional Skills) & Attitudes and Values (towards Teacher, School-mates, School Activities, Environment & Value System).
The school will equip students to excel both academically and emotionally and nurture morals, ethics, and human values along with a sense of nationalism and social responsibility.
The following are the core areas to be instilled in students
Orchestrate the right understanding of success
Step forward to lead as needed, regardless of position
Building bond that foster nurturing instrumental relationships
Conflict management
Enhance concentration and memory
Articulate and arouse enthusiasm for championing change
See diversity as an opportunity
Right food & exercise for healthy life style
Handling exam pressure
Emphasis on attitude of gratitude
Understand various emotions and their impact
Importance of communication in leveraging diversity
Listen openly and send convincing message to others
Adversity and negative impact
Power of influence
How to create an empowered state of mind
Set challenging goal and to take calculated risk
Understanding into one's physiology and posture
Learning to lead by example
Craft a personal vision
Sharing clarity
Sharpening Communication & Language Skills
At the Gaudium we focus on the four skills of the English Language – Writing, Reading, Speaking and Listening so as to equip students with the wherewithal to handle communication effectively.
Showing Students the 'Write' Way
Handwriting
Despite computers edging out writing by hand, it will remain one of the fundamental tools in the learning toolkit as it promotes attention to detail of content, organization, evaluation and synthesis of ideas.
Creative Writing
Our emphasis on creative writing helps children think outside of the box and leads to the development of problem-solving skills. We help foster creativity and develop imagination in young minds through simple demonstrations, real-life situations and fun activities through which creative writing skills will be honed.
Exercising the mind through Reading
Reading is one of the most essential skills that improves knowledge, builds vocabulary and promotes progressive thinking. At The Gaudium we ensure that the habit of reading is inculcated in children at an early age. We provide appropriate reading material for every grade level and guide children with reading techniques.

Turning students into good Speakers and Listeners
We offer English language proficiency program for students. The program focuses on the development of linguistic competence from the absolute beginner (Grade 1) to full mastery (Grade 12) level – what else can you expect from the best school in Hyderabad.