Why can't a child be
taught to fix a bulb or
repair a leak at home?
First of its kind Teaching & Learning Program in the Best School in Hyderabad
The Gaudium has the distinction of being the first school in Hyderabad (and therefore the best school in Hyderabad!) to introduce STEM – a hands-on, integrated learning program popular in the USA, UK and East Asia.
Broadly activities can be called as Scholastic and Co-Scholastic Activities. The Gaudium lays equal emphasis on both kinds of activities.
STEM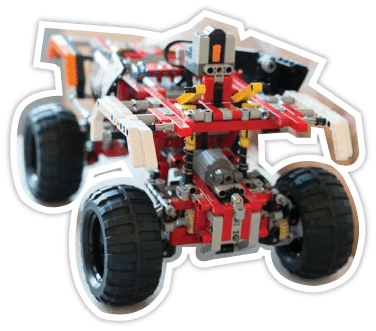 STEM is an acronym for Science, Technology, Engineering and Mathematics. Traditionally, these have been taught as separate subjects with each having different textbooks and practical exercises. The STEM program integrates all these subjects along with technology to provide a hands-on, holistic approach to learning. STEM combines these areas because the skills and knowledge in each discipline is essential for student success and the fields are deeply intertwined in the real world.
A proper curriculum is set for each grade where the child gets to work on at least 10 projects a year. Each lesson plan is designed to better understand the concepts taught in the class room using hands-on and experiential activities – not without reason we are the best school in Hyderabad.
STEM in Primary School
Project examples – learning projectile science through straw rockets and catapults.

STEM in Middle School
Project examples – learning mechanics through simple and powered machines.
STEM in High School
Project examples – learning robotics and engineering through practical play.
Sharpening Communication & Language Skills
At the Gaudium we focus on the four skills of the English Language – Writing, Reading, Speaking and Listening so as to equip students with the wherewithal to handle communication effectively.
Showing Students the 'Write' Way

Handwriting
Despite computers edging out writing by hand, it will remain one of the fundamental tools in the learning toolkit as it promotes attention to detail of content, organization, evaluation and synthesis of ideas.
Creative Writing
Our emphasis on creative writing helps children think outside of the box and leads to the development of problem-solving skills. We help foster creativity and develop imagination in young minds through simple demonstrations, real-life situations and fun activities through which creative writing skills will be honed.
Exercising the mind through Reading
Reading is one of the most essential skills that improves knowledge, builds vocabulary and promotes progressive thinking. At The Gaudium we ensure that the habit of reading is inculcated in children at an early age. We provide appropriate reading material for every grade level and guide children with reading techniques.

Turning students into good Speakers and Listeners
We offer English language proficiency program for students. The program focuses on the development of linguistic competence from the absolute beginner (Grade 1) to full mastery (Grade 12) level – what else can you expect from the best school in Hyderabad.